Speakers
Speakers
KEYNOTE SPEAKERS AND FOUNDERS
Nick Robinson
Political Journalist and International Broadcaster
Nick was the BBC's political editor from 2005 to 2015 and is currently based at Westminster, where he has particular responsibility for serving the flagship BBC news programmes, including Today on Radio 4 and the Ten O'Clock News on BBC One. Before he was political editor, he did the same job at ITV News, before which he was chief political correspondent for BBC News 24, deputy editor of Panorama and a presenter on BBC Radio 5 live.
He started blogging about politics for the BBC in 2001 when he was one of the earliest mainstream journalists in the UK to adopt the format. He began his time at the BBC behind the microphone, starting as a trainee producer in 1986 on Brass Tacks, Newsround and Crimewatch.
Born in Macclesfield, Cheshire in 1963, he attended Cheadle Hulme School, followed by University College, Oxford where he studied politics, philosophy and economics.
Dr Ewan Kirk
Chief Investment Officer
GAM Systematic | Cantab
Dr Ewan Kirk is Chief Investment Officer of GAM Systematic's Cantab team. He co-founded Cantab Capital Partners in 2006, which became part of GAM Systematic in October 2016. His daily focus is research and development, risk management and managing the quantitative team. Prior to founding Cantab, Ewan Kirk ran the 120-strong Goldman Sachs Strategies Group in Europe, where he was responsible for all of Goldman Sachs' quantitative technology. Ewan Kirk holds a PhD in Mathematics (General Relativity) from the University of Southampton, a Certificate in Advanced Study in Applied Mathematics from the University of Cambridge and achieved a First Class degree in Natural Philosophy and Astronomy at the University of Glasgow. He is based in Cambridge.
Dr Sushil Wadhwani, CBE
Founder and CEO
Wadhwani Asset Management
Dr Sushil Wadhwani, CBE, is the Founder and CEO of Wadhwani Asset Management LLP, a London‑based asset management company that specialises in systematic macro investing, and is a partner at Caxton Associates. He is responsible for managing a systematic macro strategy for GAM. Mr Wadhwani was a full-time member of the Monetary Policy Committee at the Bank of England from 1999 to 2002. Prior to this, his roles included director of research, head of systems trading and a partner at the Tudor Group, and director of equity strategy at Goldman Sachs International Ltd. Mr Wadhwani began his career as an academic in the Working of Financial Markets department of the London School of Economics where he is still a Governor and a visiting Professor. He is also a visiting Professor at City University Business School and a Governor of the National Institute of Economic and Social Research and has held various advisory roles and published numerous articles in academic journals. Mr Wadhwani holds a PhD in Economics from the London School of Economics and was recognised as a Commander of the British Empire in the Queen's Birthday Honours List in 2002. He is based in London.
David Smith
Futurologist and Chief Executive
Global Futures and Foresight
Watch David's video about his session: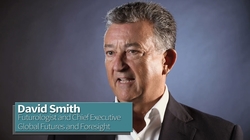 A futurologist, and Chief Executive of Global Futures and Foresight (GFF) - a strategic futures research organization, David's 35-year diverse business career has made him recognisable as one of the world's leading futurists and strategic thinkers. David challenges, informs and engages his clients and audiences on the key issues of the near future, in order to stimulate 'out-of-the-box' thinking to help organizations generate new visions, strategies, products and services. GFF prepares views of the future on many topics to help organisations be better prepared to face the future and reduce their risk of being blindsided by change.
Since founding GFF, David has worked with many of the world's largest organisations, and government bodies as well as academic institutions and industry associations. His insights have led many organizations to embrace change and prepare innovative strategies to renew themselves and generate new growth. David does this through using the research capabilities of the GFF in-house research team and by surveying their worldwide network of over 9,000 future thinkers and business leaders. In his career he has held technological and senior management positions in both large and small organizations. He has been involved in public sector, commercial and financial markets and has held technical, sales, marketing and general management positions. He has advised the UK and EU governments on strategic research investment decisions. His clients number some of largest and most prestigious firms around the world and David is a regular international keynote speaker and writer and a passionate believer that we are not victims of what the future might hold if we prepare ourselves in advance.
SOCIETE GENERALE AND RISK
Alexandre Fleury
Head of Equities & Equity Derivatives, Global Markets
Societe Generale
Alexandre Fleury joined Societe Generale as Head of Equities & Equity Derivatives for Global Markets in June 2018. He was previously Global Head of Equities Structured Products and Structured Financing at Bank of America Merrill Lynch.
Alexandre started his career in California working on the development of portfolio optimization software. He then spent 10 years at Societe Generale being successively based in Tokyo, New York and Paris where he carried out responsibilities in Structured Equity Derivatives Trading and Structured Credit Derivatives Trading. In 2009, he joined Credit Suisse to become Head of Quantitative Futures Trading Strategies. In 2011, he moved to Morgan Stanley where he acted as Head of Equities Structured Products for Europe and Asia, Head of European Flow Index Trading and Global Head of Hybrids Trading.
Alexandre Fleury is a graduate of the Ecole Centrale Paris, France and has a Master of Science from the University of California, Berkeley, USA.
Duncan Wood
Editor-in-Chief
RISK.NET
Duncan Wood is the London-based editor-in-chief of Risk.net. He was promoted to the role at the start of 2015, to lead the editorial reorganisation of the website and its print titles. Duncan had been editor of Risk magazine since July 2011. He rejoined Risk as European editor in October 2009, having originally worked for Risk and Asia Risk in London and Hong Kong as a writer and researcher between 1998 and 2000.
In the intervening years, Duncan was news editor for the Oliver Wyman-founded online start-up ERisk.com. He also worked freelance for six years while living in Germany, with his work appearing in Euromoney, Financial News, IFR, and The Wall Street Journal, as well as Risk magazine and its sister titles.
Duncan has written about derivatives and risk throughout his 17-year career in journalism. He is a Neal Awards finalist, and has also won Incisive Media's journalist and editor of the year awards.
Margie Lindsay
Hedge Fund Editor
RISK.NET
Margie Lindsay began her journalistic career at the Financial Times writing about business, finance and economic issues. After leaving the Financial Times, Ms Lindsay developed and edited a magazine for the European Union preparing the first wave of candidate countries from Eastern Europe for membership. In 2008 Ms Lindsay became editor of Hedge Funds Review and was made executive editor in October 2013 and remains connected to the publication as contributing editor. In July 2014 she left to launch Alpha Journal, an online publication covering alternative investment funds. She is the author of several books covering a wide range of business and economic and has experience working in broadcasting.
Kokou Agbo-Bloua
Global Head of Flow Strategy & Solution, Financial Engineering
Societe Generale
Kokou Agbo-Bloua leads a global team of 20 financial engineers focused on the generation of differentiated trade ideas, unique implementations and hedging solutions across asset classes for hedge funds, global macro, asset managers and institutions.
Kokou joined SG CIB in 2014 and was most recently Head of Equity & Derivative Strategy Europe at BNPP in London for 4 years, where he was responsible for European fundamental equity strategy, derivatives parameters, global cross-asset themes and convertible bonds strategy. He was team leader of five senior strategists ranked #1 for idea generation by Greenwich survey & Derivatives Intelligence. Prior to this, he started his career on the trading side: Executive Director at JP Morgan from 2009-2010 and from 2000 to 2008 he was a portfolio manager at Goldman Sachs Principal Strategies (GSPS). He managed directional long/short, convertible bonds and volatility portfolios across asset classes.
John Bilton
Head of Global Multi-Asset Strategy
JP Morgan Asset Management
John Bilton, managing director, is head of global multi-asset strategy for the Multi-Asset Solutions team, based in London, establishing the broad asset allocation framework that is reflected across portfolios managed by the team globally. In a career spanning two decades, John has worked in a variety of functions across all major asset class sectors. An employee since 2014, John was previously head of European Investment Strategy at Bank of America-Merrill Lynch, where he had responsibility for both European equity strategy and broader multi-asset research. Prior to this, he held roles at Barclays Capital and Accenture focusing on risk management and strategy consulting. John obtained a B.Sc. in Chemistry from the University of Bristol and an M.B.A. from the MIT Sloan School of Management. He is a CFA charterholder.
Sunil Krishnan
Head of Multi Asset Funds
Aviva Investors
Sunil heads the Aviva team which manages long-only Multi-asset funds and mandates. He is also a member of the Multi-asset leadership group and a contributor to the AIMS investment process.
Prior to joining Aviva Investors, Sunil was a Senior Portfolio Manager in Global Multi-asset Solutions at Santander Asset Management, having been Head of Global Asset Allocation at Hermes Investment Management and Head of Market Strategy at the British Telecom Pension Scheme. He also spent 10 years at BlackRock Investment Management and predecessors in a number of roles including portfolio management, research and strategy.
Sunil holds an MSc in Economics from Birkbeck College, University of London and an MA in Philosophy, Politics and Economics from Balliol College, University of Oxford. He is also a CFA® charterholder.
Roderick MacKenzie
Multi Asset Strategies
BlackRock
Roderick MacKenzie is a member of the Diversified Strategies team within BlackRock's Multi-Asset Strategies (MAS) group, which is responsible for developing, assembling and managing investment strategies involving multiple asset classes. Within Diversified Strategies, his primary responsibility is researching systematic risk premia and volatility strategies. Mr. MacKenzie earned a BSc degree, with honours, in mathematics from McGill University in 2012 and an MPhil degree in economics from the University of Oxford in 2015.
Leo Niemeläinen
Portfolio Manager
Ilmarinen Mutual
Leo Niemeläinen is a portfolio manager at Ilmarinen Mutual Pension Insurance Company's absolute return targeting Alpha team. Leo runs macro and relative value volatility risk in developed markets' equities, foreign exchange and rates. He holds a MSc in Finance from Aalto University, Helsinki.
Talib Sheikh
Head of Multi-Asset Strategy
Jupiter Asset Management
Talib Sheikh joined Jupiter in June 2018 and is Head of Strategy, Multi-Asset. Before joining Jupiter, Talib was managing director and portfolio manager at JP Morgan Asset Management where he has worked for nearly 20 years. He was instrumental in the formation and growth of the Multi-Asset Solutions team, since inception in 2004. Over this time, Talib has managed a number of products including multi-asset income, target return and flexible balanced funds plus diversified institutional accounts. Talib has an MSc in International Agricultural Marketing from Newcastle University and is a CFA® charterholder.